---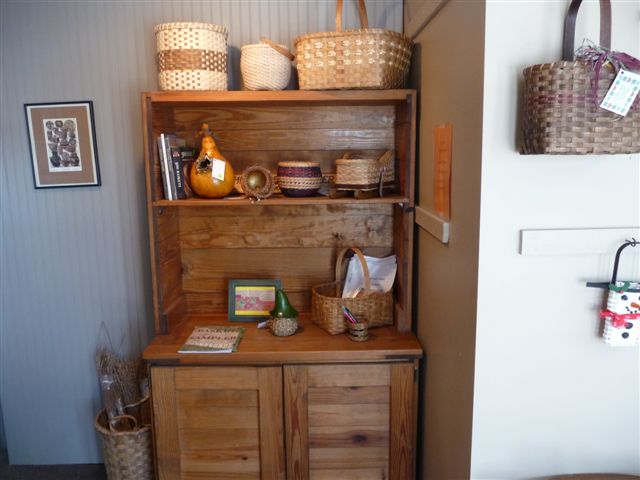 What do you do when your mom refuses to make any more baskets for you? You open a basket shop and make your own! It's been years in the making but The Basket Sampler has arrived.
Owner Kathy McMinn first joined her mom in basket making classes over 20 years ago at Create-A-Craft. When that store closed, it was Linda Morelli who took action. Determined to keep the art of basketry alive, Linda opened her own shop. Linda's Basket Gallery became classroom central for Helen and many of her students came along with her. After a several year break to concentrate on other things, Kathy resumed basketmaking, coming to evening classes with her friend Nina. Thirteen years later, Linda found herself on a new path with a new career opportunity. With only 24 hours in a day, Linda decided to close her shop. With that announcement, Kathy, with the help Nina, offered to purchase the shop. Linda and Kathy worked together to form their deal, kept the doors open, and classes went on as scheduled.
The Basket Sampler grand opening events began in September, 2007. Kathy is now is an owner/instructor with a special gift of teaching children's classes in basket making and bobbin lace. Helen Springer's talent spans more than 30 years of teaching history and The Basket Sampler is honored to have her as an instructor and fellow adventurer. Together, Kathy and Helen bring unique skills and dedication to the art of basketry.
The Basket Sampler is a full service materials supplier and instructional resource striving to preserve and carry on the historic traditions of basket making. Kathy and her staff welcome to you to the newest phase in this adventure that started all those years ago.
Helen Springer
Often, I have the feeling that 2 basketmakers reside in my mind. One loves traditional work and other says contemporary is the favorite style. Being my own employer allows me to choose to do what I prefer - in the moment.
I weave several types of baskets, although my most popular works are traditional styles made from commercial reed and splint. Oak handles top many of them. When I'm not producing my own designs, I find inspiration in creating replicas of antique baskets.
Apart from my traditional styles, I have a line of what I call lathe baskets. The style is marked by handcrafted wooden bases, rims, and often lids. After I design the basket, my husband turns the appropriate wood parts on his lathe. Using hand dyed reed and splint, I begin the weaving process. Results vary from functional vessels to large art pieces.
Association of Michigan Basketmakers
http://www.michiganbasketmakers.com/
---