---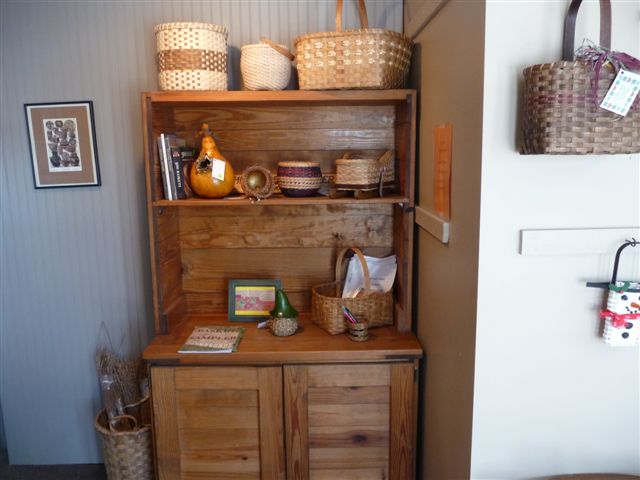 What do you do when your mom refuses to make any more baskets for you? You open a basket shop and make your own! It's been years in the making but The Basket Sampler has arrived.
Owner Kathy McMinn first joined her mom in basket making classes over 20 years ago at Create-A-Craft. When that store closed, it was Linda Morelli who took action. Determined to keep the art of basketry alive, Linda opened her own shop. Linda's Basket Gallery became classroom central for Helen and many of her students came along with her. After a several year break to concentrate on other things, Kathy resumed basketmaking, coming to evening classes with her friend Nina. Thirteen years later, Linda found herself on a new path with a new career opportunity. With only 24 hours in a day, Linda decided to close her shop. With that announcement, Kathy, with the help Nina, offered to purchase the shop. Linda and Kathy worked together to form their deal, kept the doors open, and classes went on as scheduled.
The Basket Sampler grand opening events began in September, 2007. Kathy is now is an owner/instructor with a special gift of teaching children's classes in basket making and bobbin lace. Helen Springer's talent spans more than 30 years of teaching history and The Basket Sampler is honored to have her as an instructor and fellow adventurer. Together, Kathy and Helen bring unique skills and dedication to the art of basketry.
The Basket Sampler is a full service materials supplier and instructional resource striving to preserve and carry on the historic traditions of basket making. Kathy and her staff welcome to you to the newest phase in this adventure that started all those years ago.
Suzanne Sandvik
Suzanne Sandvik has been hooking rugs for 25 years and received her McGown teaching certification in 2009. She started teaching in 2005 in the Hartland Community Schools Adult Education Program. She has been teaching at The Basket Sampler since 2013. She enjoys designing pieces for her students, as well as color planning and dying the wool for their projects.
She has published an article for the ATHA Magazine and been accepted in Rug Hooking Magazine's Celebrations Magazine. One of her rugs won the people's choice at the Sauder Village rug exhibition. She is also a member of the Wild Wooly Women rug hooking guild that meets monthly in Hartland.
We are very glad to have Suzanne teaching at The Basket Sampler. I have loved learning about the simple techniques that can turn a piece of wool and some backing into a very usable work of art. We meet most Monday's from 3-5pm. Please call Kathy at 248-889-8600 to get more information about classes.
Association of Michigan Basketmakers
http://www.michiganbasketmakers.com/
---